Welcome to the news section of the site, please check here periodically for updates on Dani Filth.
Any news of interest may be sent to chris-f@bigfoot.com.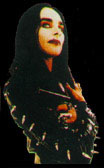 Tuesday October 31st 2000
Cradle of Filth's new album Midian was released in the UK today. Expect an international release shortly.
Thursday July 13th 2000
The official Cradle of Fear website is now up. Check it out at http://www.cradleoffear.com.
Friday June 9th 2000
Dani along with Cradle of Filth will be starring in their own full-length movie titled Cradle of Fear. The movie will be directed and scripted by Alex Chandon. Dani plays a character who believes he is an eternal vampire while in fact he is a total nutcase whose father is searching for a serial killer. Dani had this to say about the film : "If it turns out as good as the script reads, not only will it be funny and quite gross, but it will stylish and sexy. It will remain a totally underground film, as Alex doesn't want to get it rated by censors, hence it will only be available to buy from his website. He is also doing an accompanying soundtrack which will feature a new track from us and some really fucked up drum and bass music."
Thursday June 8th 2000
Dani is currently in rehearsals with the rest of Cradle of Filth for their new album that will supposedly be released under the name "Midian". The album will be our by the end year followed by a world tour.
Tuesday March 22nd 2000
Sorry no news on Dani as of now. Check back in the future.