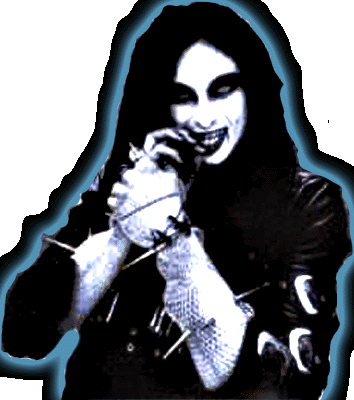 Hello and welcome to my Dani Filth, the frontman of Cradle of Filth homepage. Cradle of Filth is one of the biggest black metal bands currently in the scene right now. This page will be dedicated to the lead singer, Dani Davey, also known as Dani Filth and will hopefully feature plenty of pictures, sound files and multimedia clips to satisfy any Dani Filth fan.
Contact webmaster chris-f@bigfoot.com
http://homeygfunk.tripod.com
SITE NEWS
July 25, 2000
I would just like to wish Dani Filth a happy birthday. He turns 28 today.
July 14, 2000
Added sound section to the multimedia area of the site.
June 4, 2000
The site has just been accepted on the Nocturnal Supremacy webring. Hopefully this will increase traffic to the site.
May 17, 2000
I have just created this site and hopefully it will be use to the Dani Davey "Filth" fans and Cradle of Filth fans out there. If anyone can donate some additional information, some rare pictures or just about anything related to Dani Filth it'd be greatly appreciated.
Sign My Guestbook
View My Guestbook